I am joining in with Lady Ella's Reasons To Be Cheerful, monthly recap. You can read her current cheerful post here: Flowers-of-Progress
Source
For me March had lots of moments to be cheerful & grateful about, although it was certainly spiced with many stressful moments.
At work, we had one very abrupt staff departure along with another's long planned on departure which meant I was working several 12 hours days, but I had several cheery greetings for some of our lovely patients; "oh how nice to see you again, haven't seen you in a while, missed you", made me smile & get that warm feeling of appreciation.
With working so many days/hours this last two weeks, it was a return to the shared housework routine of our early married days. We work very well together as a team & Mr Man does much better at vacuuming than me. Our agreement for the housework routine is, since I normally work part time, I look after the majority of housekeeping tasks, so weekends are for play & not housework.
An end to the work week with a Friday night enjoying the skating at the World's competition in
Helsinki. I love to skate but I am not a skilled skater, so to watch the skaters spin, leap, throw & dance on ice is sheer joy for me. Canada's ladies did very well - the first time two have been on the podium at the same time - silver & bronze. I think our ice dance team have an excellent chance at the gold tonight (Saturday)!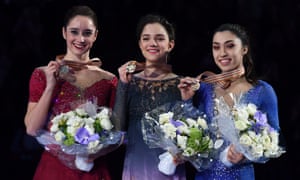 Source:
While winter did have one last fling at wintery weather late last week, it is good to see signs of spring. My special Canada tulips that were planted in the ground/garden last Autumn are pushing through & the pots that I planted & kept in the garage all winter have stems & leaves about 6" high. Those pots are spending the days in sunshine, with a return to the garage at night. Still minus temperatures at night.
Grateful for a very reasonably priced quote for privacy patio fencing. Plus they promise they can get it done soon & with minimal upset to the growing garden.
The last few online searches for information for our 2017 Summer Manifesto activities, is coming together nicely.
Source